Coolum Beach Sunshine Coast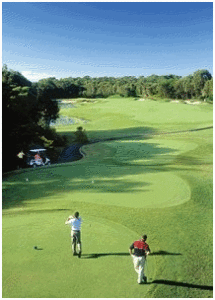 Coolum Beach appeals both as a residential address and as a Sunshine Coast holiday accommodation destination. Coolum Beach and the surrounding beaches of Mudjimba, Marcoola and Peregian, provide visitors with a tranquil escape for a pet friendly holiday from the bustle of major cities and other busy beaches on the Sunshine Coast.
Take a look at our beautiful, modern Pet Friendly Holiday Houses in Coolum Beach and Marcoola Beach, Sunshine Coast from the top menu bar.
Coolum Beach on the central Sunshine Coast has grown enormously in the past few years and now provides the ideal Tourist destination for pet friendly singles, couples and families alike for an extended holiday. Whether you are looking to relax and unwind in your holiday house or wanting to take in all that Coolum and its surrounds has to offer, we know you'll enjoy your stay in our accommodation of beautiful Coolum and Marcoola Pet Friendly Holiday Houses.
Some of the main attractions of Coolum Beach are:
Fully patrolled surf beaches all year round.
Pet friendly off leash beaches of Stumers Creek Coolum and the North Shore are popular and dog friendly.
Wide-open Coolum beaches providing some of the best surf breaks on the Sunshine _ Coast regardless of the weather conditions. These sandy Coolum beaches are perfect for the early morning or late afternoon stroll with your loved dog on the Sunny Sunshine Coast.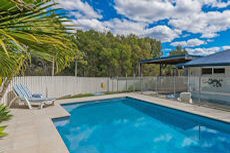 The rocky headlands of Point Perry and Point Arkwright Coolum Beach are in stark contrast to the wide open beaches and provide the perfect viewing platforms from where you can take in a wide angle view to other headlands from the Coolum Boardwalk. You can enjoy the sound of the waves crashing onto the rocky outcrops, view the frenzy of the feeding birds over a school of fish and enjoy the talents of the surfers as they challenge the swell. During certain times of the year from the Coolum Boardwalk on the Sunshine Coast whales can be viewed passing by.
Due to Coolum Beaches central location on the Sunshine Coast, it provides easy access to local Sunshine Coast tourist attractions including The Ginger Factory, Aussie World, Australia Zoo and The Big Pineapple.
Close proximity to premier Sunshine Coast golf courses including Novotel Twin Waters, Hyatt Regency, Mount Coolum, Noosa Springs, Peregian Springs and Pelican Waters. The Real Estate in this Coolum Beach region has made it one of the "Hot Spots" in the Queensland and Australian Real Estate industry.
Coolum Pet Friendly Attractions
Check around the site. We are sure you'll find everything you need to know about Coolum Beach and Marcoola Beach in the fantastic part of the world called the Sunshine Coast!!
Coolum has a fine surf and swimming beach. The Coolum township is located halfway between Maroochydore and Noosa, just north of Marcoola. The surrounding bays and rocky outcrops of the central Sunshine Coast are favourite fishing haunts. This is the perfect location for a modern pet friendly holiday house. There are plenty of cafes and fine dining options on the main thoroughfare of Coolum and Marcoola. And, if it's exercise you need, set aside a couple of hours for the hike to the top of Mt Coolum. Stunning views from the peak reward those who make the effort.
If those views over the ocean turn your fancy to thoughts of dangling a line, charter operators offer deep-sea fishing from Noos and Mooloolaba. Coolum Beach is located just 15 minutes south of Noosa and 15 minutes north of Mooloolaba on the Sunshine Coast.
Owner Manager
Alison Little
Trip Advisor Links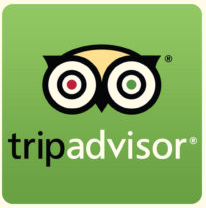 Newsletter

Sign up for our Newsletter!
Sign up now and receive 50 Must Do's On The Sunshine Coast
Recent Reviews
Caroline Smith says ~ Marcoola House
What an awesome location! We wanted very close to the beach and we got it! Could even hear the waves at night. Awesome location and gorgeous house, nice and modern and super clean!
Lots of activities to do at the house and nice area of Marcoola
......................................................
James Merrick says ~ Coolum Waves
Great house great location Alison's houses are actually pet friendly. If you are looking for a place to chill this is for you, i will be coming back
......................................................
Vivienne Kent says ~ Surf Club House Had a wonderful time, very comfortable, easy access to all that we needed . We will stay again. Next time longer. Thank you
.....................................................
Vanessa says ~ Coolum Waves Awesome house…very kiddy friendly as well as pet friendly…was a home away from home.Ticked all the boxes and more. I will definitely be recommending this house…we hope to try all your houses 🙂 very hard to find a holiday home that you can truly relax knowing our kids and molly dog were soooo welcome…thank you Alison.
.....................................................
Julie says ~ Surf Club House
Hi Alison, I have told so many friends and they were amazed that we got this beautiful little cottage with a pool right near the beach and on top of it all the best part was our dog could stay. We were delighted with all the little thoughts for welcoming not only guests but dogs, like the dog bowls and dog bed we even found a toy.Thanks for a great stay.
.....................................................
Pavla smith says ~ Our stay at the Surf Club House at Marcoola was truly great. Everything was perfect, location to the beach, using the house bicycles on the nearby trail leading to Coolum Beach, the ping-pong was a hit with the four teenagers we had with us. The house is great and highly private. Our mature age Labrador Sheeba was so happy with the short walk to the beach and resting in the secure yard at other times. All in all, fantastic!