Your loved dogs and cats are welcome at our beautiful Pet Friendly Holiday Rental Houses in Marcoola and Coolum Beach Sunshine Coast QLD, inside and out.
All dogs and cats are welcome inside the house under supervision but are not allowed on furniture or beds out of respect for all future guests. If this is not possible it is expected that you cover furniture with your own sheets before allowing pets on them. Thank you.
Please do not allow cats or dogs to scratch or climb curtains, lounges, doors, dig holes, etc. Guests will be held responsible for damage their pets causes, which will be deducted from the bond.
Dog and cat bowls, dog large sling bed and poop scoop are provided. Please BYO dog towel, dog lead, cat scratch pole, extra cat litter tray, etc
Please also ensure that dogs are not left unattended for extended periods, which may cause them and neighbours distress. We do have 6 food high secure fencing around all properties (except Coolum Retreat has 1 meter heigh side gates)
It is our policy that all pets have up to date vaccinations and have been treated appropriately for fleas.
After all these formalities I would like to share with you why we are offering our homes to Pet loving Sunshine Coast Holiday makers.
ABOUT US
Living in this beautiful small community area of Marcoola Beach with the whole Sunshine Coast beachside dream lifestyle in front of us within foot steps. (Beach, Playground, bike path, Surf Club, Restaurants, Store, takeaway and more) It was hard to think it could get better than this. We wanted to share what we had with others. Offering it to family holiday makers at a high standard and with everything we would want in a holiday was the only way to do it. The whole family(Dogs and Cats included), clean and offering everything and more from our modern lives and expectations. Of coarse walking to everything and never having to get in the car is Marcoola holiday relaxation perfection.
Our Coolum Houses are their own resort style oasis you will never want to leave. It made sense to show our pet friendly family holiday guests our other love. Coolum Beach. Cafes, restaurants, boutiques, hugely popular Stumers Creek off leash dog beach) The Coolum House offers Kanargoos, ducks, electric heated pool, playground on your property and Modern elegance to enjoy and appreciate.  Coolum Waves is 10 minutes walk to the beach, backing onto a huge parkland and offering modern areas for all the family(pool table, outside lounge, tv room with PS3 games)In its own right Coolum Beach is a perfect relaxed modern beach family holiday in Coolum Beach on the Sunshine Coast.
We have now grown Pet Friendly Holiday Houses with 4 beautiful, homely, stunning and perfect holiday rental properties to choose from in our favourite parts of the world. Marcoola and Coolum Beach.
Since 2006 we have been proud to offer families our high standard of holiday experience. Fantastic reviews and feedback show our beautiful houses are First Class at providing an exceptional family beach holiday experience and beautiful memories. Many come back again and again and again.
DOG-FRIENDLY BEACHES ON THE SUNSHINE COAST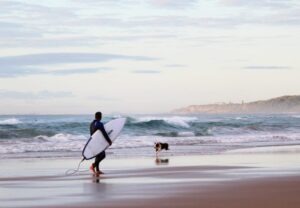 Dog Beaches on the Sunshine Coast
Looking for a great day out at the beach, but want to take your four-legged friend along to?  Lucky for you, the Sunshine Coast has a wealth of beautiful off-leash beaches to choose from.
We've pulled together a list of dog beaches where your pooch is allowed to explore without a leash.
Just remember to pick up after your furry friend and put the leash back on as you leave the beach to avoid any unfortunate surprises underfoot or to your hip-pocket if a council officer is nearby.
(Note: These areas are subject to council rules and regulations and can change. Check for signs, if there is no sign your dog must be on a lead at all times.)
Dog-Friendly Beaches on the Sunshine Coast
Coolum Beach and Stumers Creek
Off-leash at all times from the northern end of the Coolum Beach Caravan Park, extending northwards to 1km north of Stumers Creek. From beach access 67 to 72.
Noosa Dog Beach, Noosa Spit
Off-leash at all times at Noosa Spit on the river side of Claude Batten Drive (excluding the car parking areas), Noosa Heads.
North Shore Beach, Twin Waters
Off-leash at all times from North Shore Beach, Twin Waters, between the low water mark and the base of the dunal area, extending from the Maroochy River to a point 500 metres south of the safety flagged bathing area at Twin Waters Surf Club, beach access 132.
Town of Seaside
10 minutes walk north from the Surf Club at Marcoola. Off-leash only at the times indicated on the council signs. (Please double check the current signs for the rules at the time of your visit, but previously it's been 5am to 8am and 5pm to 8pm.) Area extends from beach access 97 to beach access 98.
————————————————–
NOTE: List correct as at January 2018. These areas are subject to council rules and regulations and can change. Check for signs, if there is no sign your dog must be on lead at all times. 
For the most up-to-date information about council-approved dog parks and off-leash areas, visit the Sunshine Coast Council's website here: www.sunshinecoast.qld.gov.au/Living-and-Community/Animals-and-Pets/Dog-Parks-and-Off-Leash-Areas
Owner Manager
Alison Little
Trip Advisor Links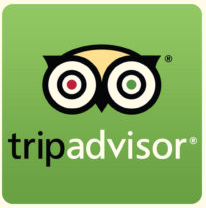 Newsletter

Sign up for our Newsletter!
Sign up now and receive 50 Must Do's On The Sunshine Coast
Recent Reviews
Caroline Smith says ~ Marcoola House
What an awesome location! We wanted very close to the beach and we got it! Could even hear the waves at night. Awesome location and gorgeous house, nice and modern and super clean!
Lots of activities to do at the house and nice area of Marcoola
......................................................
James Merrick says ~ Coolum Waves
Great house great location Alison's houses are actually pet friendly. If you are looking for a place to chill this is for you, i will be coming back
......................................................
Vivienne Kent says ~ Surf Club House Had a wonderful time, very comfortable, easy access to all that we needed . We will stay again. Next time longer. Thank you
.....................................................
Vanessa says ~ Coolum Waves Awesome house…very kiddy friendly as well as pet friendly…was a home away from home.Ticked all the boxes and more. I will definitely be recommending this house…we hope to try all your houses 🙂 very hard to find a holiday home that you can truly relax knowing our kids and molly dog were soooo welcome…thank you Alison.
.....................................................
Julie says ~ Surf Club House
Hi Alison, I have told so many friends and they were amazed that we got this beautiful little cottage with a pool right near the beach and on top of it all the best part was our dog could stay. We were delighted with all the little thoughts for welcoming not only guests but dogs, like the dog bowls and dog bed we even found a toy.Thanks for a great stay.
.....................................................
Pavla smith says ~ Our stay at the Surf Club House at Marcoola was truly great. Everything was perfect, location to the beach, using the house bicycles on the nearby trail leading to Coolum Beach, the ping-pong was a hit with the four teenagers we had with us. The house is great and highly private. Our mature age Labrador Sheeba was so happy with the short walk to the beach and resting in the secure yard at other times. All in all, fantastic!